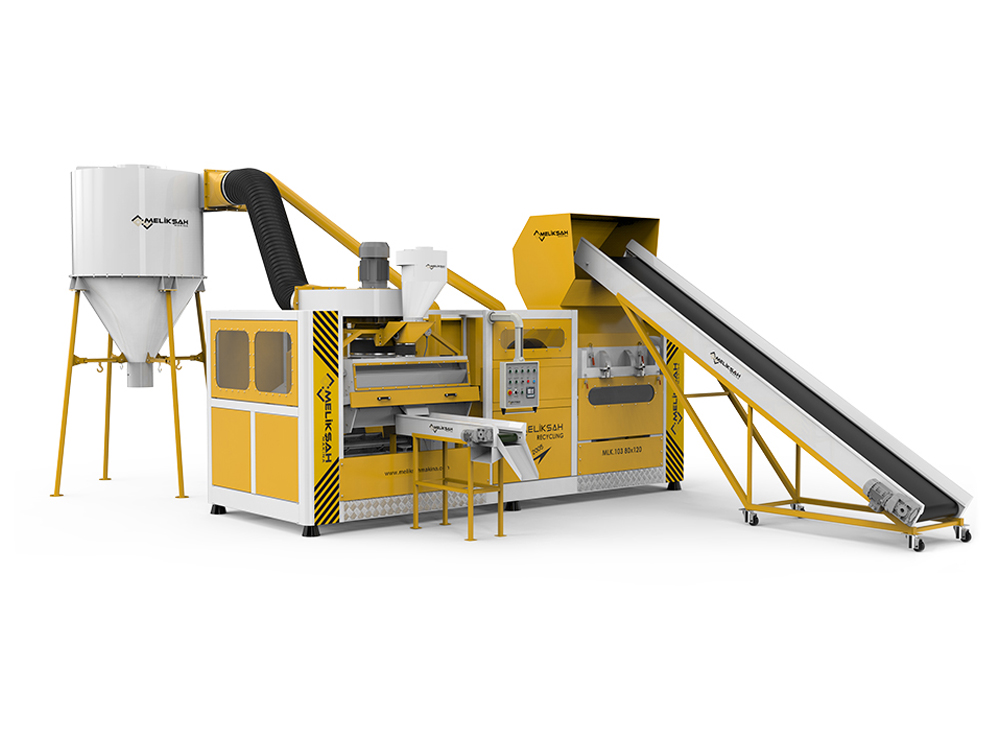 MLK 103-120 Cable Crushing Machine
Introduction to the machine:
The cable in all kinds of metals (copper, steel) is used to separate the cable. One of the most important features of the machine is metal and plastic pellets to make separately.
Mobile Cable Crushing System 3 main machine and their equipment is a system consisting of ¬. All machinery and plant equipment to be on a chassis makes it easy to use and control. Resulting in safe housing and chassis around the removes all danger. V-belts are made with the rotor drive system, making the manual feed air fan system with conveyor belt with the crushing chamber in the cooling process is carried out by the machine itself. Crushing chamber HCHC in the whole of the blades steel hardness of metals with different hardness are atılmadıktan inside the machine will be longer than the life of the blades. Bühler is that knives are used in breaking the German brand. Saparatör on the chassis by air separation of copper and plastic to provide a one of the most sensitive. All machines have been careful not to exceed the standards of sound insulation made. The machine is located on the machine control panels, safety switches and low is one of the most important features in terms of human security. The power source required by the machine is a 400 V three-phase 50 Hz. Blades and other parts of machine tools in order to make life long customers, only to be taken into chamber crushing machinery we ask them to be careful to pay attention to the materials.

Machine capacity and are manufactured in different sizes according to customers needs.

Rubber pads placed under the machine chassis according to customer demand makes it easy to carry.
| | |
| --- | --- |
| Model | MLK 103-120 |
| Dimensions | 200x520x305 (WxDxH) |
| Weight8.0 | 11.000 Kg |
| Capacity | 2000 Kg. / H - 3000 Kg. / H (Standart) |
| Motor | 90 Kw – 100 Hp |
| Power Consumption | 10 Kw |
| Knife | 45 Rotary 4 Fixed |