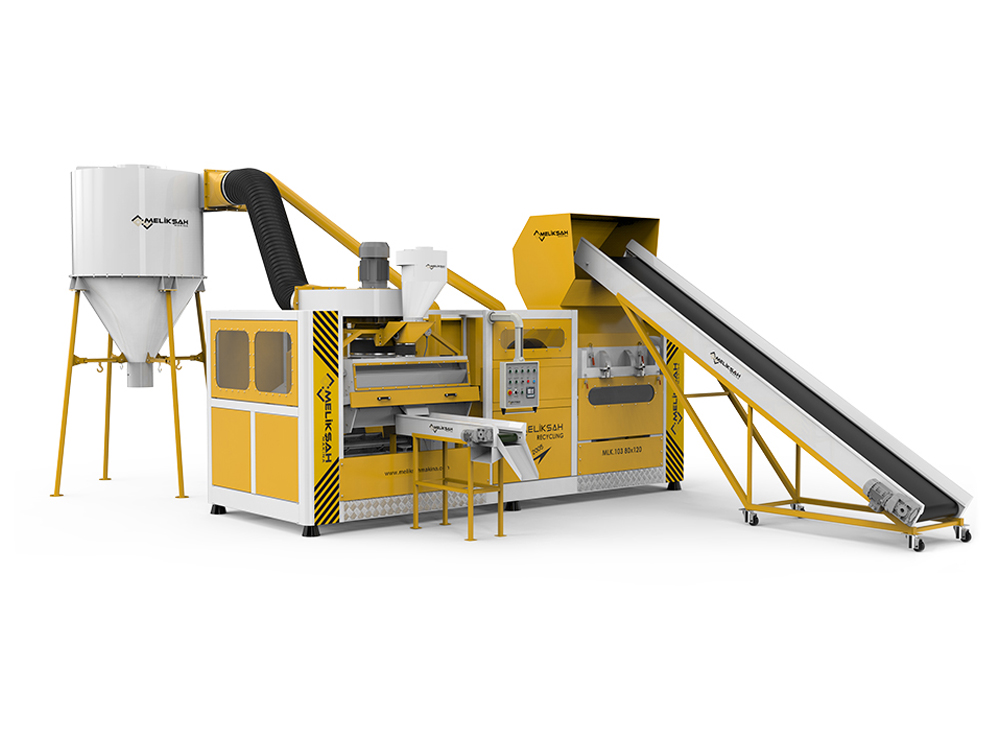 MLK 101-60 Cable Crushing Machine
Introduction to the machine:
It is used for separating metals (Copper, Steel) into all kind of cables.

The most important feature of machine is making granules metal and plastic from each other.

Mobile Breaking System has 3 unit's main machines and their equipment.

All machines and equipment are on one chassis so usage and control of the plant is easy.

Protection case around chassis prevents dangers. The rotor is driven by V-Belts. Manual feeding is made by a conveyor belt. Cooling into breaking tank is made itself by the means of a pneumatic fan system. All blades of the breaking tank are made of H.C.H.C steel and hardness. Blades can be heavy-duty if metal which are same hardness. Blades into breaking are German Bohler brand. The separator on the chassis separates copper and plastic from each other accurately by the means of air.

Standard is paid attention by sound insulation of all machines. Safety switches on the machine and low control panels are some of the most important features. Required electric source for the machine is 400 V 3 phase 50 Hz. For heavy-duty blades and machine equipment, we kindly request from our customer to pay attention to be used metals into break tank.

We manufacture machines with different capacities and dimensions as per customer demands.
| | |
| --- | --- |
| Model | MLK 101-60 |
| Dimensions | 200x400x305 (W.D.H) |
| Weight | 5500 Kg |
| Capacity | 800 Kg / h - 10000 Kg. / H (standard supply is carried out) |
| Motor | 45 Kw. 50 Hp |
| Power Consumption | 5 Kw |
| Knife | 25 Rotary - 2 Fixed |